October 26, 2020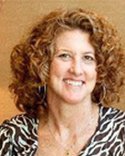 Dear Bacich Families,
Thank you to all of the families and teachers who participated this weekend in the Cans for Candy event! It was so much fun to see all of the teachers and students in costume as they did something positive for their community. They collected 40 bags of food on Saturday and 60 bags on Sunday! I was so grateful to witness some of this event, as it warmed my heart during these trying times.This past weekend, I was assisting in planning the layout of all of our directionality arrows as well as placing dots for students to safely stand on, 6 feet apart, as they wait to enter the classroom.  I hope you will join me in my first "Principal Chat" this Tuesday evening at 6:00 p.m. where I will share photos and talk about where we are in our progress toward safely having students back on campus for instruction.  
Thank you to the PTA, Lead Room Parents and teachers for helping to plan fun Halloween activities this year. I know lots of parents are joining in to read books and play games with students, all on Zoom. Halloween Bingo game materials were passed out by grade level last week and will continue this week. One important announcement from the PTA for our students with food allergies:
Your child may have already received, or will be receiving Halloween Bingo for classroom celebrations on October 30th. Some families received candy corn (which contain sesame oil and are made in a shared facility), and other students received skittles which are safe from common allergens. When your child receives their Halloween Bingo set, please check that the candy you received is the safe choice for your child. Thank you.
With the election on the horizon, the Character Pillar of Citizenship seemed like a timely and appropriate trait to focus on this coming month. Maia Yamasaki, our school counselor, will plan to come to each class's Morning Meeting to read the book, What Can a Citizen Do?, by Dave Eggers, and do a short lesson/discussion. "This rhyming civics lesson asks the timely and important question "What in the world can a citizen do?"and provides some concrete suggestions. Many of the examples in What Can a Citizen Do? are clear and simple. For instance, kids work together to build a treehouse, plant a tree, and right an upturned turtle. Author Dave Eggers provides some direct instruction, such as, "A citizen can write a letter. A citizen can help change laws." And he reminds kids, "We're part of a society," so "Do something for another."
Due to the various planned power outages by PG&E through this week, please continue to monitor District communications in the event our school will need to close. If your family is affected by the outages and school is still open, please contact me so that we can provide you with supplemental school lessons and activities your child can do at home without power.
Take care,
Mary Ann Spitzer
Bacich Principal
mspitzer@kentfieldschools.org