May 2, 2019
Dear Parents,
Zero Waste Marin, Marin Sanitary Service, and Bacich have been working together for the past two years to reduce waste on our school campus. Our students are actively involved in this work and play an important role in its success. The children are guided and supported by paraprofessional, Lisa Meagher, and our school's Green Team, who help sort our recycling and composting.
Located in various locations on the Bacich campus are recycling and composting receptacles. Landfill receptacles (gray trash cans) are also located near the recycling and composting receptacles for items such as dog waste, coffee cups, plastic wrap, plastic silverware, and plastic straws.
Bacich is an open campus after school and on the weekends, therefore our parent and community support is critical to the success of our Zero Waste Program. We encourage you to use our recycling, composting and waste stations to properly sort your waste during school and afterschool hours. Marin Sanitary Service will not pick up trash bins that are "contaminated" with a mixture of materials.
The diagram below shows the list of items, which belong in our bin systems: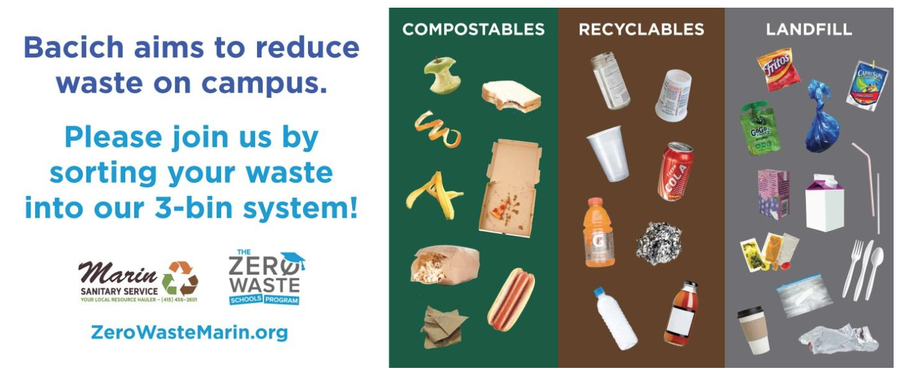 If you wish to learn more about the specifics of the Marin Sanitary recycling and compost program, please visit: marinsanitaryservice.com/curbside-collection-guidelines/
Together, we can work to keep Marin beautiful and our communities thriving.
Thank you for working with us to keep our campus Zero Waste clean!
Sally Peck
Bacich Principal